Ashbrook Garden Centre
This is a social enterprise based in Ashbrook Estate near Londonderry.
In essence Ashbrook Garden Centre is a social enterprise that focuses on providing horticulture skills training to individuals with a learning disability and other socially disadvantaged clients.
Since its inception, activities in Ashbrook have had a high degree of community involvement and have strived to empower clients by providing them with person-centred training to develop their work and interpersonal skills.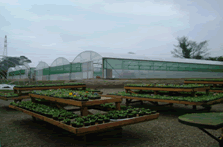 Like Strabane Garden Centre, the local community has also benefited from having access to a fully stocked garden centre on their doorstep.
The garden centre grows and sells a variety of plants and flowers on a year-round basis. You can also buy garden ornaments, garden furniture and other materials to help you create and maintain a healthy and colourful garden.
The success of Ashbrook both as a social enterprise and as a training facility has been achieved through the development of a secure, encouraging work environment. The energies of the work force can be channeled into focused, positive, constructive outcomes that incorporate career progression strategies.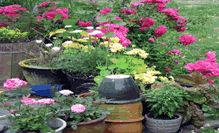 Ashbrook operates within a social economy model and in itself is designed to operate as a self sustaining entity. The social economy model forms a key aspect of the organisation's sustainability strategy.
Directions to Ashbrook Garden Centre can be found on this map. We look forward to meeting you and meeting your gardening needs!

Independent Travel Training | Work, Jobs & Skills Training | Getting a Job & Preparing for Work | Being Effective in Work | Communication Skills Training | Appropriate Work Behaviour | Assertiveness, Respect & Rights | Health & Safety at Work | Personal Hygiene & Self-Presentation | Introduction to Horticulture | Introduction to Catering | Introduction to Working in an Office | Introduction to Working in a Supermarket | Training & Multimedia Learning Resources | New Horizons Partnership -Training for People with Learning Disabilities |