Megabites @ Northbrook Technology
Northbrook Technology recently contracted New Horizons Partnership to provide catering services to staff at their Strabane facility.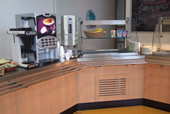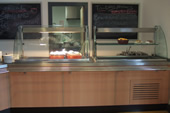 Northbrook Technology specialises in delivering technology and business solutions to its parent company, The Allstate Corporation. The Strabane facility currently employs 330 staff, providing a mix of call-centre technical support and other back office administrative work for the parent company.

Megabites' self-service canteen opened in January 2007 and is managed by Bill Duncan, who has more than fifteen years' experience in the catering industry.
Bill and his staff of four are assisted by New Horizons Partnership trainees Emma, Cathal, Rosemary, Sinead and Eileen in providing a 12-hour canteen service to Northbrook staff.
Bill Duncan

Karen Sleat, head of operations (North West) for Northbrook Technology commented: "This has been an investment of over £200,000 in improving the facilities for our workforce in Strabane, which has now over 300 staff."
Named "Megabites" in a staff competition, the canteen has only been in use for a short time, but "already," according to Karen, "feedback from staff on the quality of the freshly prepared food has been excellent." Staff appreciate the convenience of being able to access such food and other snacks on the premises.
Karen Sleat
Partnerships such as this allow New Horizons Partnership to extend the range of services it can offer learning disabled clients. Megabites' catering facility also provides a valuable progression route for trainees who wish to pursue a vocation in catering.
Independent Travel Training | Work, Jobs & Skills Training | Getting a Job & Preparing for Work | Being Effective in Work | Communication Skills Training | Appropriate Work Behaviour | Assertiveness, Respect & Rights | Health & Safety at Work | Personal Hygiene & Self-Presentation | Introduction to Horticulture | Introduction to Catering | Introduction to Working in an Office | Introduction to Working in a Supermarket | Training & Multimedia Learning Resources | New Horizons Partnership -Training for People with Learning Disabilities |