The Old Schoolhouse Cafe
New Horizons Partnership facilitated the transformation of the old Gate Lodge in front of the North West Institute for Further and Higher Education on the Derry Road in Strabane into a real working café that supports the vocational development of adults with learning disabilities and the long-term unemployed.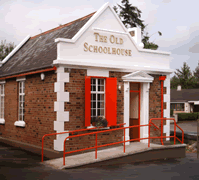 The Old Schoolhouse is open Monday to Friday from 8.30am to 5.00pm and from 9.30 to 4.30 every Saturday.
It offers a comprehensive menu plus a Chef's Daily Special. All dishes are freshly prepared, including a home-made soup of the day.
The exterior of the building does little justice to the extent of the room inside where, surprisingly, seating for 26 customers is provided. In renovating the building, we have tried to combine an old world environment with a modern kitchen design.


Here's a flavour of what you will experience at the cafe:
Home-made food prepared by skilled staff and trainees (under supervision) and served to your table by trainees.
A special table ordering system whereby we invite you to write down your order to facilitate some of our waiters and waitresses who may experience literacy difficulties .
A PC with internet access where you can surf the net for free.
Daily newspapers so you can relax and catch up on the day's news.

We hope you will enjoy your experience at the Old Schoolhouse Cafe. Your custom will help vocationally disadvantaged students to participate in training and work experience that will support their integration into the labour market via this social enterprise.

Feel free to give the manager Adrian a call on (028) 7188 6995 to discuss how we can meet your catering, dietary or entertaining needs.

NEW: Take-Away Lunch Service Phone us with your order before 11.30am and it will be ready for collection from 12.30pm.

It has taken three years to bring this project to fruition thanks to funding from Strabane Local Strategy Partnership, The Community Foundation for Northern Ireland, Foyle Health and Social Services Trust, The North Western Health Board, Sperrin Lakeland Health Care Trust and the North West Institute of Further and Higher Education.






Independent Travel Training | Work, Jobs & Skills Training | Getting a Job & Preparing for Work | Being Effective in Work | Communication Skills Training | Appropriate Work Behaviour | Assertiveness, Respect & Rights | Health & Safety at Work | Personal Hygiene & Self-Presentation | Introduction to Horticulture | Introduction to Catering | Introduction to Working in an Office | Introduction to Working in a Supermarket | Training & Multimedia Learning Resources | New Horizons Partnership -Training for People with Learning Disabilities |