Getting a Job & Preparing for Work
GETTING A JOB & PREPARING FOR WORK
Students learn about ten different steps in the process to get a job. They also learn about the variety of things that it is necessary for someone to do in order to prepare for the working day, both the night before work and the morning before work. Finally, this unit deals with the specifics of someone's job, from the perspective of the 'where', 'who', 'what (tasks they might do)', 'what (tools they might use)' and 'when'.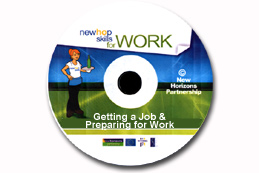 View Instructional Video
(hosted on YouTube)

Purchase as part of Bundle 1
Purchase as part of Bundle 2
Purchase as part of Bundle 4

Price: £100

CONTENT DETAILS
Student's Workbook 39 pages
Trainer's Manual 67 pages
Supporting Documents 4
Videos 6
Interactive Exercises 2
Price £100
TABLE OF CONTENTS
How do people find work?
Steps in getting a job
What happens once you get the job?

Preparing for your new job
It's the night before you go to work!
It's the morning before you go to work!
How do I know what to wear for work?


The where, who, what and when of the job
Where
Who
What (tasks)
What (tools)
When
Work rota